Riedell 265 Skate
As the sport of roller derby has evolved, so too must the iconic 265 skate.
Riedells hand-sorted full grain leather Model 265 boot now comes stocked in two different widths with expanded sizing so more skaters can find a perfect fit – something that is critical to performing your best. D/B combination last - a C width toe (wider in the ball of the foot) and B width heel (Narrower in the heel) to better suit women's feet. B/AA for more narrow foot types.
The classic two stripe design of the leather 265 boot recalls vintage derby skates.

Hand sorted full grain leather upper.

The new 265 features Cambrelle ® in the front to help hold the shape and the padded Dri-Lex ® in the back for comfort.

Full grain white leather looped backstay adds a nice bit of contrast to the boot and help when sliding your skating boots on.

DuoLock tongue webbing (helps prevent tongue rotation while skating)

Riedell HF-5 heat moldable reinforcement - outside quarter right boot

They are a cross between features of the 695s and 125s with leather Velcro cinch strap allows the heel to stay in place while skating.

Rolled collar replaces the padded and rolled collar of the old 265 for a sleeker, lighter, and more comfortable fit around the ankle bone.

They have inner counter for extra arch support and heel immobilization, to minimize ankle rolling.

The lace-to-toe design offers adjustable room for feet of any width.

Stitched and cemented rubber outsoles




Hand-made in U.S.A.
Plates
PowerDyne™ Thrust Nylon black plates with polished metal trucks for an exceptional performance available for skaters under 200 lbs. Durable black nylon plates with polished metal trucks for an exceptional performance.
Toe Stop Upgrades
Gum Ball Roller Derby Toe Stops by GRN MNSTR

Superball Gumball Toe Stops by GrnMnster
Pick wheels that you can have set of each hardness. Build your set to have 4 of each hardness so when you travel you have wheels that will work for every surface. Don't get stuck carrying 8 wheels, 8 wheels, 8 wheels of different brands and styles.
(Confirm with league what wheels you need for surface you are skating on so you have the right wheels for your practice space)
Bad Girlfriend Skates is the only shop that gives you SO MANY wheel choices. If it's not on here email and ask for a quote and change to your package. The pusher wheel is your inside wheel that will hug the inside of the track helping you stick. Your breaker wheel is your outside wheel. You can pick the same wheel as your pusher or try one durometer up/same brand. Example would be 86A Halo as your pusher and 88A Halo as your breaker. Having two different sets allows you to add to your wheel collection the 91A and 95A next so you travel with 16 wheels being ready for all floors of the venues you visit and SAVES YOU MONEY!!! (and lot less weight and more space in your gear bag)

Radar Villain the new High Performance "Hybrid" Derby Wheel from Radar manufactured entirely in the USA. They feature Radar Quantum Urethane Radar's Hybrid formula urethane and the new Shark hub. This wheel is great for skaters needing grip due to slippery surfaces, unusual conditions, or just because they prefer a grippy wheel. The other great thing about this wheel is it can be used outdoors.
Radar Villain Size: 38mm wide x 59mm tall

Colors: White urethane with bright purple hub

Hardness: 84A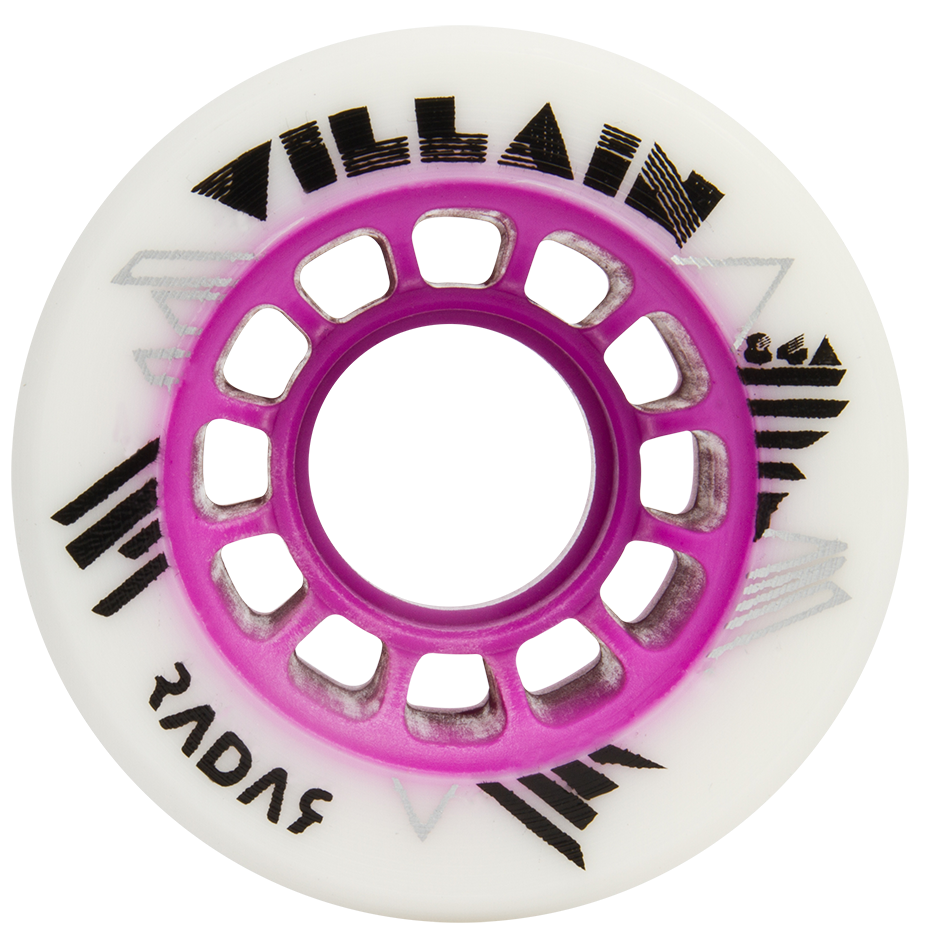 OR
The Sonar Bracer wheels featuring an 84A urethane formula created to provide extra grip.
OR

Sonar Striker wheels feature 88A urethane formula created to give skaters good grip at an affordable price. If you are new to derby you will enjoy the versatility of the Striker and the great thing is they work well on concrete, wood and sport tile surfaces.
Radar Presto roller derby wheel features the Tiger 2 piece hub and Neothane urethane setting a new standard for performance offering a previously unattainable combination of lightness, speed, grip and controlled stops.
Hardness: 88A Hub: Highlighter Turquoise and Black Tiger

Hardness: 91A Hub: Yellow and Black Tiger

Hardness: 93A Hub: Red-Orange and Black Tiger

Hardness: 95A Hub: Highlighter Blue and Black Tiger

Hardness: 97A Hub: Highlighter Purple and Black Tiger
Radar Halo wheels feature an innovative, signature H-shaped hub. The inner and outer edges of the hub are oversized, which reduces the amount of urethane on the edges of the wheel making it easier to perform stops.
Designed for derby the incredibly light Halo offers grip, increases control, and improves ride. Size: 38mm x 59mm
Hardness: 86A Hub: Orange Halo Hub

Hardness: 88A Hub: Teal Halo Hub

Hardness: 91A Hub: Yellow Halo Hub

Hardness: 93A Hub: Pink Halo Hub

Hardness: 95A Hub: Blue Halo Hub

Hardness: 97A Hub: Green Halo Hub
SIZING
Speed Skates Are In Men's Sizes.
(Ladies Go Down One Size)
Ladies Shoe Size 8 = Man Skate Size 7
Men's sizes 3-13 including half sizes.
Proper Fitting of Riedell Skate Boot.
https://www.roller.riedellskates.com/sizing-help
*Any boot model can be made on any last listed above, custom widths, and custom colors. Special makeup charges may apply. Please allow 3-4 weeks for delivery.
*When ordering any special makeup boot in different colors or special widths, it's always advisable to first try on a stock boot to make sure the sizing is correct.
Special order boots are not returnable.
Drilex® – Drilex is a multi-zone lining system that transports moisture away from the foot. The layer closest to the skin is made of 100% Hydrofil® nylon to keep your feet dry, cool, and comfortable.
Cambrelle® – Cambrelle is a lining system made of a mesh of bi-component fibers that can conform to constant motion. Cambrelle linings are highly abrasion resistant and transports moisture away from the foot to keep your feet cool and dry.
Important: Don't forget to order either the Riedell Toe Guard or Snout to protect the front of your skates and make them last longer.