The Jackson Vantage boot features a genuine leather upper utilizing Jackson's Pro Series last for a performance fit. The use of leather combined with Jackson's Heat Moldable System ensures the boot will shape to the skater's foot. A rubber stitch-through sole with leather heel provides maximum security and stability.
Boot: Jackson Vantage
Microfiber upper

Black rubber stitched outsole

Fabric lining

Padded tongue
Plate: Pilot Viper F-16 Zytel Nylon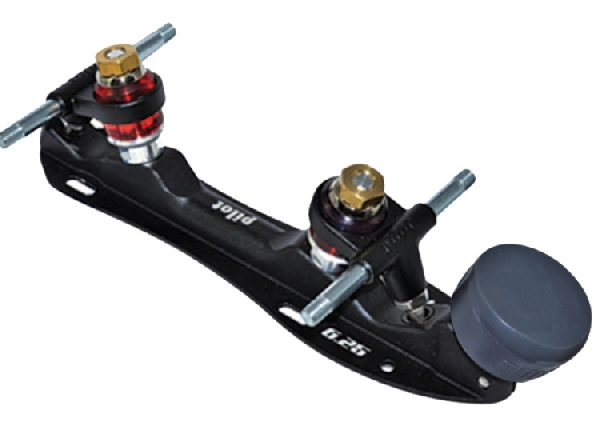 The Pilot F16 series roller skate plate allows skaters to upgrade their Pilot base plate without having to re-drill holes in their boots. It is also simple to upgrade from the base nylon plate, with non micro adjustment, to the Eagle plate, that offers an array of urethane cushion hardness, as well as a micro click adjustable truck setup.
Skaters can also upgrade either the Eagle or Falcon plate with trucks that allows for precise pivot adjustment. Atom has also utilized the 16-degree truck setup as this allows for optimal action for skaters as well as sits the skater lower to the ground for increased maneuverability!
Atom's Pilot Eagle/Viper frame is great for athletes looking to reduce weight without reducing power! The glass filled Zytel nylon allows for a stable ride that reduces flex, which is notorious on plastic plates.
Wheels: Atom Poison (Green or Pink), Atom Poison Savant or Atom Pulse Outdoor wheels

Bearings: Bionic ABEC-7 bearings are lubricated with speed oil and require no break-in period.
Delrin cage reinforced.
Toe Stop: Bionic XS Stopper Adjustable
Bionic XS Stoppers: Rubber compound, long lasting, non-marking, 30 mm stem len

Sizes: Women's 4-10 full and half sizes, 11