Bont Hybrid Microfiber New Skater Package (FREE SHIPPING)
Bad Girlfriend Roller Skates New Skater packages include your skates, Choice of Atom, Smith Scab or Triple Eight knee pads, elbow pads, wrist guards, Triple Eight Brainsaver Dual Certified Helmet and SISU mouthguard (we will not sell you junk boil and bite mouthguards! We won't even give them away free because they are garbage!) If you already have a dental mouthguard we even offer $20 deduction so you are not forced to buy one.
Bad Girlfriend Skates also offers you lots of price saving upgrades! Upgrading now saves you money now. We promise amazing prices and MORE options than any other skate shops. We are your ONE STOP skate shop!! (Bad Girlfriend Skates stocks this skate in the shop)

Email us at bgfskates@gmail.com or text 780-918-9676 for stock/colour questions. Unlike some shops WE HAVE STOCK! Lots of it....
THE ONLY THING WE HIGHLY RECOMMEND IN OUR NEW SKATER PACKAGES IS - UPGRADE YOUR KNEEPADS - PAY THE EXTRA $25 TO $45 AND YOUR KNEES WILL LOVE YOU! (We are skaters and that is why we promote this)
Bont Hybrid Microfiber Roller Derby Skate is unlike most entry level packages that are made with old construction techniques using cardboard and wood.
The Hybrid has a fully hand made fiberglass base and it is heat moldable to your feet.
Model: Hybrid

Base: Fiberglass

Outer Skin: Microfiber

Liner: Microfiber

Heel Rise: 6mm

Innersole: EVA thermo-moldable

Heat Moldable: Fully Heat Moldable Base Utilizing Epoxy Thermoset Resin

Padding: Memory Foam

Boot Height: Standard

Size Options: 3 - 13
Heat Moldability
The fiberglass in the boot is made hard by the use of a thermosetting epoxy resin. Resin development is something that we have been doing since 1975. Formulating a resin that is super stiff, yet becomes moldable at low temperatures and has a fast cure time is critical for our unique requirement which is why we are the only skate manufacturer who develops our own resins in-house.
Our resin becomes soft at just 60°C (140°F) which is the lowest in the industry. Once you heat the resin, mold the shoe and let it set, it is permanently set without the need to remold. You can also reheat the resin as many times as you like.
Light Weight
Bont boots are manufactured by hand in a process where we build the boot from the inside out by hand laying the carbon of fiberglass around the last (plastic foot). This method of manufacturing is extremely time consuming compared to the traditional method of quad boot manufacturing which is done by gluing the upper to the pre made base. However, our method results in a much stronger and lighter structure.
Memory Foam
The Hybrid is made with high density closed cell memory foam. This padding will not deform over time or retain water from sweat or wet surfaces.
Color Options
The Hybrid boot is only available in black with white trim.
Sizing Info

Speed skates are a high performance apparatus so it is not always easy to have one size chart that will please everyone because some skaters like their skates tighter than others. What Bont has done is provide you with the exact last sizes in the chart above and you can use it to determine your Bont size. As a basic rule, most skaters like their boots to be 3-4mm longer than the last. This allows for your feet to grow in length when the boots are tightened. If you like your boots super tight, then just add 1-2mm but be warned, your toes will touch the end and possibly be scrunched.
Bont has added a new row called WIDTH. It makes it easy to determine if you have wide or narrow feet. For example, a size 4 boot will fit a 86 - 90mm wide foot. If you have a 91mm wide foot, then you would probably be better off with a wide boot.
To find your size, place a tape measure on a flat surface up against a wall. Stand on the tape measure with your heel against the wall. Look down and take the measurement from your longest toe. Then use the MM scale on the size chart to find your size.


Here are some examples of mm sizes for speed skates and the boot size recommended:
253mm + 4mm you should order size 6.5
268mm + 4mm you should order size 8
273mm + 4mm you should order size 9
291mm + 4mm you should order size 11.
Bont Sizing Wizard Link to size your foot :
http://www.bont.com/quad/items/support/size.html
Please use the above link for accurate sizing. This package includes free shipping but all exchanges are postage paid by customer. Please ensure you get right size.
Anatomical Forefoot Shape
Conventional quad skates offer a "dress shoe" type shaping. Although highly aesthetic this will cause the toes along with the metatarsals to be overly constricted, compressing the nerves between the metatarsals which often results in the common "hot foot" sensation.
Bont skates anatomical shaping allows the foot to function in its most efficient and anatomically correct position.
Anatomical Heel Cup
The anatomical heel cup shaping of Bont quad skates provides increased stability and more power through your push. This stabilization is achieved without any mechanical operation or over tightening of straps/laces allowing for increased comfort and blood circulation. The heel cup is fully heat moldable in the oven.
Toe Guards
This is a set of leather toe guards designed to protect the toe area of your Bont Quad Skates. Roller Derby is a contact sport and rubbing and dragging of the toe area on hard surfaces may result in the boot materials wearing out sooner than desired.
These toe guards are extremely durable made from 100% Australian Leather and are designed to extend the life of your skates.
Ballistic Wheels
87A - 60mm x 40mm
The Ballistic wheel is easy to break in, has a high rebound, high grip and great wear properties.

FX1 Wheels
The FX1 is an ultra light weight, ultra high performance wheel with super high rebound urethane combined with a unique mini bearing hub.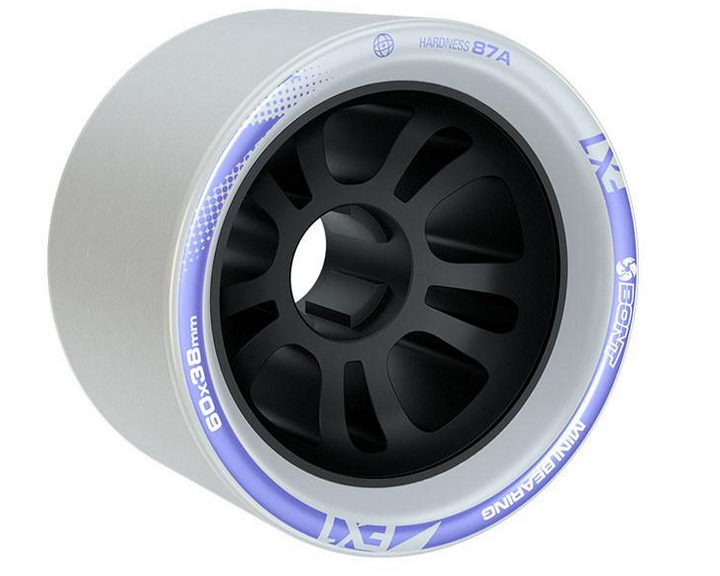 Protective Gear included in your new skater package:
Your New Skater Package includes choice of standard pads from Atom, Smith Scabs or Triple Eight(you can click on items you like and the website will take you to that item):
| | | | | | | | |
| --- | --- | --- | --- | --- | --- | --- | --- |
| SIZING | XXS | XS | SMALL | MEDIUM | LARGE | X LARGE | 2X LARGE |
| SUPREME KNEE | 8 - 10" | 10 - 12" | 12 - 14" | 14 - 15" | 15 - 17.5" | 18 - 20" | 20 - 23" |
| SUPREME ELBOW | 5.5 - 7" | 7 - 8" | 8 - 9.5" | 9.5 - 11.5" | 12 - 13.5" | 13.5 - 14.5" | N/A |
| ELITE WRIST PALM GUARD | N/A | 4.5 - 5" | 5 - 6.0" | 6.0 - 6.5" | 7.0 - 7.5" | 8.0 - 8.5" | N/A |
Measure leg and or arm circumference at knee cap/elbow joint, measure wrist circumference

OR
SMITH DERBY KNEE
SMITH WRIST
SMITH ELITE ELBOW

SMALL

13 - 14"

SMALL

6 - 7"

X SMALL

4 - 6"

MEDIUM

14 - 15"

MEDIUM

7 - 8"

SMALL/MEDIUM

5 - 7"

LARGE

16 - 17"

LARGE

8 - 9"

LARGE/X LARGE

7 - 10"

X LARGE

17 - 18"

X LARGE

9.5 - 11.5"

2X LARGE

19 - 20"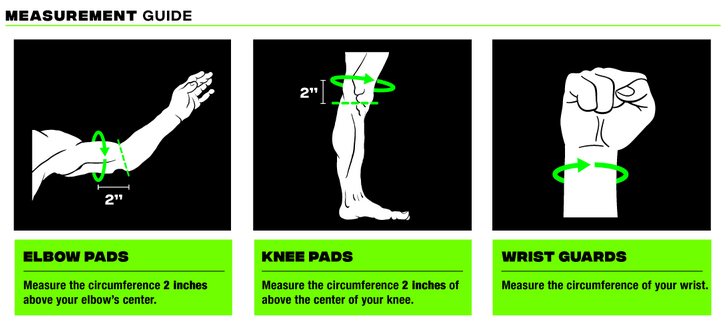 OR
Triple Eight Saver Series Wrist Saver
| | | | | | |
| --- | --- | --- | --- | --- | --- |
| | KP22 Knee | KP Pro (Upgraded Knee) | EP55 Elbow | Saver Series Wrist guard | Roller Derby Wrist guard |
| X Small | 11 - 12.5" | N/A | 5 - 6" | 7.0 - 7.5" | N/A |
| Small | 12.5 - 14.5" | 12.5 -14.5" | 6 -8" | 7.5 - 8" | 7 - 8" |
| Medium | 14.5 - 16" | 14.5 -16" | 8 - 10" | 8 - 9" | 8 - 9" |
| Large | 16 - 17" | 16 - 17 | 10- 12" | 9 - 10" | 9 - 10" |
| X Large | 17 - 19.5" | 17 - 19.5" | 12 - 14" | N/A | N/A |
Triple Eight KP22 Knee Pads Sizing (measure circumference of extended knee)
Triple Eight EP55 Elbow Pads (Elbow circumference with outstretched arm)
Triple Eight Saver Series Wrist Guard (measure hand circumference at the knuckles)
We highly recommend you upgrade your kneepads to: (4 UPGRADES AVAILABLE)
Triple Eight KP Pro Knee Pads Sizing
(measure circumference of extended knee) see size chart above
What is the difference between Pro Knee Pad and Pro Derby Knee Pad?
The Pro Knee Pad is a bigger pad over-all and the bend/shape is fixed on the perfect angle to cup your knee when you fall. The Pro Knee Pad is made of 1 ½" thick foam.
The Pro Derby Knee Pad has a one of a kind flex hinge. It has the same bend at the knee as the Pro Knee Pad, but the flex hinge allows the pad to move with your leg. The over-all sizing is also smaller. The Pro Derby Knee Pad is made of 1 ¼ " thick foam.
Note: Measure approx 1.5" above and below knee
| | | |
| --- | --- | --- |
| SIZE | TOP OPENING | BOTTOM OPENING |
| X SMALL | 11" - 14" | 10 - 13" |
| SMALL/MEDIUM | 13 - 16" | 12 - 15" |
| LARGE/X LARGE | 15.5" - 18.5" | 14.5 - 17.5" |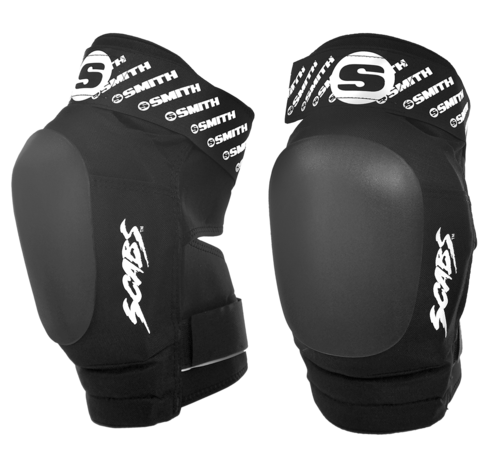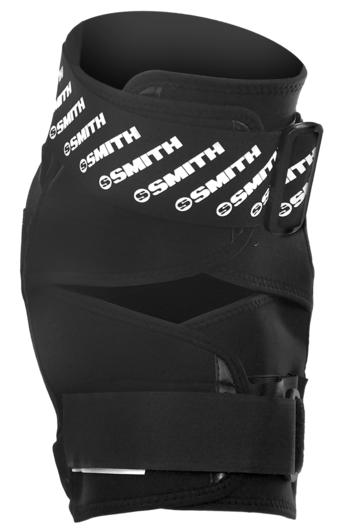 Wrist Guard Upgrades:
Triple Eight Roller Derby Wrist Guard
measure hand circumference at the knuckles and match to the sizes listed below
S 7.0 – 8.0 in
M 8.0 – 9.0 in
L 9.0 – 10.0 in

187 Pro Roller Derby Elbow Pads
What is the difference between the three styles of 187 elbow pads?
The Standard Elbow is the original and more traditional design of elbow pad and best seller. It has a ½" of foam.
The Slim Elbow Pad is a smaller, more compact elbow pad, with a fixed bottom strap. The Slim Pad still offers great protection with a ½" of foam.
The Pro Elbow Pad is a larger, more thick and bulky pad for those who want max protection for their elbows. It has a 7/8" of foam.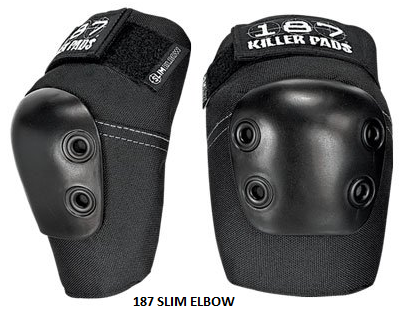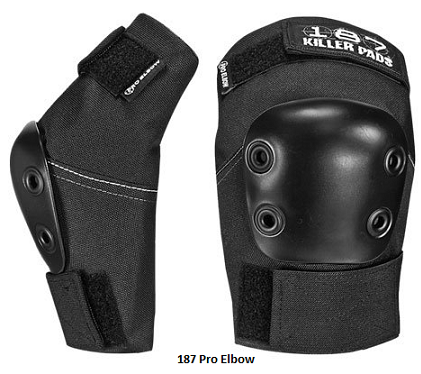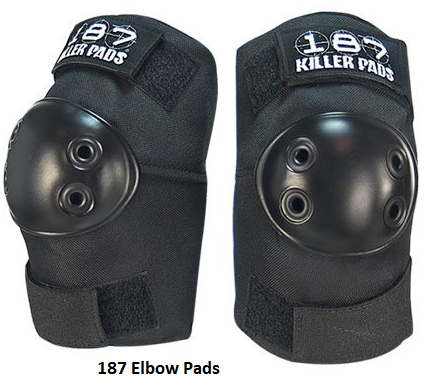 TSG Derby Girl All Terrain Knee Pad
•Women specific design
•Sleek and ergonomic design
•Shock absorbing EVA padding
•Fixed full coverage PE shell
•Top and bottom Velcro straps for optimum adjustment
•Pull-over design
TSG Derby Girl All Terrain Elbow Pad
TSG DERBY GIRL KNEE PAD

TSG DERBY GIRL ELBOW

Top Circum.

Bottom Circum

Top Circum.

Bottom Circum

Small

13-15.25"

12.25-13.5"

10.25-11.5"

9.75-10.5"

Medium

14.5 -17"

13-14.25"

SOLD OUT

SOLD OUT

Large

15.75-18.5"

13.75-15.25"

12.25-13.5"

11-11.5"
Your New Skater Package also includes:
Triple Eight Brainsaver Dual Certified with EPS Liner Helmet
To ensure a perfect fit, measure the circumference of your head starting in the middle of your forehead and match it with the sizes below.
XS/S 18.9-21.3in (48-54cm)
S/M 21.7-22.8in (55cm-58cm)
L/XL 23.2-24in (59-61cm)
Package also includes SISU 1.6 Adult Mouth Guard FREE or upgrade to SISU 2.4 Adult Mouth Guard for $12

The thinner SISU™ 1.6 Mouth Guards fit much more snugly to your teeth, enabling you to easily breathe, talk and drink. In fact, they're so comfortable, you might even forget you're wearing one! Made in the USA. BPA and Phthalate free.
Four reasons to choose the SISU™ mouth guard.
Less transfer of impact forces to teeth

More absorption of impact forces by the material

Less deformation of the material

Higher tensile strength (tougher material)
The SISU™ 2.4 Mouth Guards is a novel ultra thin and tough mouth guard that is up to 50% stronger than conventional mouth guards and allows users to breathe, talk and drink. They fit much more snugly to your teeth, enabling you to easily breathe, talk and drink. In fact, they're so comfortable, you might even forget you're wearing one! Made in the USA. BPA and Phthalate free.
New addition available for mouthguard is the Shock Doctor MicroFit Mouthguard for $2 extra
Shock Doctor MicroFit Mouthguard are Designed to provide the lowest profile protection in a thin and tight fit design.
The slim fit provides ultimate easy breathing and speaking with I-Mold technology for smooth contour.
The Shock Doctor MicroFit Mouthguard gives a high level of comfort after forming the mouthguard to each athlete's unique preference for fit.

The new HMW composite blend adds increased durability while maintaining fit and performance all season long.
Ultra Custom, Lowest Profile

Exclusive I-Mold Technology

Easy to Speak, Breathe, and Drink

Low-Temp Fast Fit

$10,000 Dental Warranty



Available in White, Black, Red


$5 Savings getting Skater Bag in your package.
If your budget allows you save $5 getting Skater Bag in your package.
Heat Molding for Bont Boots
http://www.bont.com/inline/items/support/heat-molding.html
Bont skates are the most heat moldable skates on the market. Our resin is developed in house and has been perfected over 35 years to be an extremely stiff resin that becomes pliable at relatively low temperatures. You may have tried heat molding other brands of boots and found that you needed to increase the temperature to try to get it to mold. That is not the case with your Bont boots and we urge you to start with low temperatures.
The base of the boot is moldable which means all stiff areas of the boot can be molded in a standard oven. This is unlike most boots on the market which have uppers that are moldable. You do not need to mold your boots if they fit you straight out of the box. To mold your boots, remove the wheels. You can leave the frame on if you wish. Pre heat the oven to 85°C/185°F. Place the boot in the oven for 15-20 minutes. Higher temperatures will void your warranty and may damage your boot. Caution: Do not place your feet in the hot boots or you may burn your feet. Let them cool a little and test the boot temperature with your hand before placing your feet in them. Tighten the straps/laces/buckles and allow to cool. If you have any lumps or bunions on your feet or if there are any areas causing discomfort, while the boot is still warm you can use the round end of a blunt object to press out any part of the boot. You can heat mold the boots as many times as you like. Please watch this quick video below to see how it's done.
Heat Molding FAQ: If the boots take 20 minutes to mold at 85°C, can I put them in the oven for 10 minutes at 170°C? The answer is no. Please stick to the guidelines and your boots will not be damaged.
EXTRAS: You will need the Infinity Skate Tool for Bont skate - makes it easy to adjust all the nuts, bolts and screws on your plate with one simple tool.