Bont Hybrid JR package with Ballistic Wheels 688 bearings
These boots are made with a fiberglass heat moldable base and a tough Microfiber outer skin.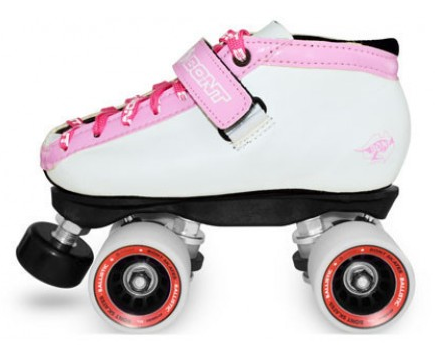 Bont Ignite Plate is fiberglass reinforced so it can take even more of a beating when mounted to your Bont boot.

These plates have a 20 degree action, 8mm axles and high end cushions.
Fiberglass reinforced plastic baseplate

20 degree kingpin

Derlin pivot cups
Bont 688 mini bearings (+688 adapter)
Bearings have a exceptionally fine polished bearing track surface and precise balls.

Light weight plastic cages for lower rolling resistance.

Steel is extremely strong which helps the bearing keep its shape when under load.
Bont 688 bearing adapters fit over your 688 bearings so that they can fit into 608 wheels.
These bearing adapters allow you to use a mini bearing in a wheel that was made for a larger 608 bearing. The benefit of using a mini bearing and an adapter rather than a 608 bearing is that you can create a much lighter set up with better acceleration.
This product requires cylinder spaces, not the normal self centering spacers
Bont 688 bearing adapters
The Bont 688 Aluminum bearing adapter fits over your mini bearings so they can be used in a 608 wheel hub. There are two advantages to using mini bearings.
1. You create a much lighter setup as a 608 bearing weighs 12 grams compared to a mini bearing at 4 grams and an adapter at 1 gram.
2. Mini bearings spool up faster than regular 608 bearings.
You need 1 adapter per bearing.
BONT Ballistic 87A wheels

The Ballistic wheel is easy to break in, has a high rebound, high grip and great wear properties.
BONT laces
Bont Toe Stop
Bont Stitched Toe Guards - pair
Bont Leather Toe Guards - pair
A set of leather toe guards designed to protect the toe area of your Bont Quad Skates.
Roller Derby is a contact sport and rubbing and dragging of the toe area on hard surfaces may result in the boot materials wearing out sooner than desired.
These toe guards are extremely durable made from 100% Australian Leather and are designed to extend the life of your skates.
This item is not typically in stock. Please allow 2–3 weeks for delivery.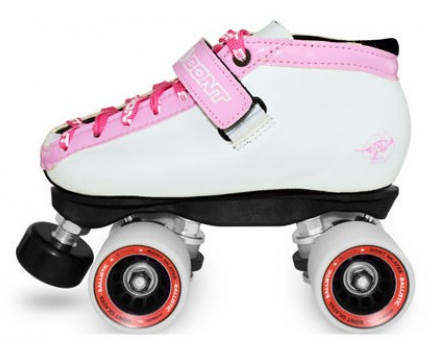 Link to size your foot for BONT BOOT
http://www.bont.com/quad/items/support/size.html
Heat Molding
Bont skates are the most heat moldable skates on the market. Our resin is developed in house and has been perfected over 36 years to be an extremely stiff resin that becomes pliable at relatively low temperatures. You may have tried heat molding other brands of boots and found that you needed to increase the temperature to try to get it to mold. That is not the case with your Bont boots and we urge you to start with low temperatures.
The base of the boot is moldable which means all stiff areas of the boot can be molded in a standard oven. You do not need to mold your boots if they fit you straight out of the box. To mold your boots, remove the plates and the innersoles. Pre heat the oven to 85°C/185°F. Place the boot in the oven for 15-20 minutes. Higher temperatures will void your warranty and may damage your boot. Caution: Do not place your feet in the hot boots or you may burn your feet. Let them cool a little and test the boot temperature with your hand before placing your feet in them. Tighten the straps/laces/buckles and allow to cool. If you have any lumps or bunions on your feet or if there are any areas causing discomfort, while the boot is still warm you can use the round end of a blunt object to press out any part of the boot. You can heat mold the boots as many times as you like. Please watch this quick video below to see how it's done.
Heat Molding FAQ: If the boots take 20 minutes to mold at 85°C, can I put them in the oven for 10 minutes at 170°C? The answer is no. Please stick to the guidelines and your boots will not be damaged.