187 Slim Elbow pads

are a compact pad ergonomically cut but shorter in overall length when compared with the classic 187 Elbow pad. This pad has a single strap design making it easy to put on or take off. In place of a lower strap is a single piece of stitched elastic which still holds tight. Flat riveted cap cradles your elbow still providing safety and protection.
FEATURES
Tapered finish and streamlined design for less bulk

Contoured shape with seamless interiors for amazing fit and comfort

Double-stitching and high-strength ballistic nylon for durability

Superior interior foam absorbs hard impacts

Seamless interior finish provides ultimate comfort

Form-fitting riveted caps for performance
Designed for athletes wanting high-level performance with a slimmer fit.
Sizing: for correct sizing, measure the circumference of around your elbow with a straight arm
XL: 33 - 36 cm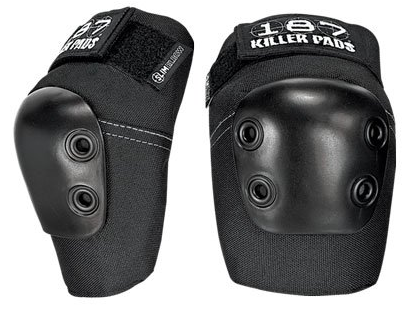 What is the difference between the three styles of 187 elbow pads?
The Standard Elbow is the original and more traditional design of elbow pad and best seller. It has a ½" of foam.
The Slim Elbow Pad is a smaller, more compact elbow pad, with a fixed bottom strap. The Slim Pad still offers great protection with a ½" of foam.
The Pro Elbow Pad is a larger, more thick and bulky pad for those who want max protection for their elbows. It has a 7/8" of foam.