Sure-Grip GT 50 New Skater Package
Sure-Grip GT 50 New Skater Package
Sure-Grip GT 50 New Skater Package
Sure-Grip GT 50 New Skater Package
Product Description
Sure-Grip GT 50 Roller Skate Package(FREE SHIPPING)
Bad Girlfriend Roller Skates New Skater packages include your skates, Choice of Atom, Smith Scab or Triple Eight knee pads, elbow pads, wrist guards, Triple Eight Brainsaver Dual Certified Helmet and SISU mouthguard (we will not sell you junk boil and bite mouthguards! We won't even give them away free because they are garbage!) If you already have a dental mouthguard we even offer $20 deduction so you are not forced to buy one.
Bad Girlfriend Skates also offers you lots of price saving upgrades! Upgrading now saves you money now. We promise amazing prices and MORE options than any other skate shops. We are your ONE STOP skate shop!!
Email us at bgfskates@gmail.com or text 780-918-9676 for stock/colour question. Unlike some shops WE HAVE STOCK! Lots of it....
THE ONLY THING WE HIGHLY RECOMMEND IN OUR NEW SKATER PACKAGES IS - UPGRADE YOUR KNEEPADS - PAY THE EXTRA $25 TO $45 AND YOUR KNEES WILL LOVE YOU
Sure-Grip GT 50 Skate
The Rock GT-50 is a great entry level skate for beginners.
The boot is made of vinyl with ankle padding and a flex notch and strap for a tighter fit.
GT-50's are slightly wider than a medium fit (D) compared to other sure grip skates. If you have wide feet this skate is for you.

Rock Nylon speed plate. Lightweight DuPont nylon plate featuring a standard 10 degree double action truck, perfect for those who want a light weight plate but all the strength of an aluminum plate. The DuPont nylon is superior to any other competitor in the market with zero defective parts. This plate is good for skaters under 200 lbs.
Toe stops: Carrera toe stop
SIZING <------- this is VERY important
Speed Skates Are In Men's Sizes.
(Ladies Go Down One Size)
Ladies Shoe Size 8 = Man Skate Size 7
Sizes:
Black 5 – 13
Great Selection of Wheels - (Confirm with league what wheels you need for surface you are skating on so you have the right wheels for your practice space)
Bad Girlfriend Skates is the only shop that gives you SO MANY wheel choices. If it's not on here email and ask for a quote and change to your package. The pusher wheel is your inside wheel that will hug the inside of the track helping you stick. Your breaker wheel is your outside wheel. You can pick the same wheel as your pusher or try one durometer up/same brand. Example would be Purple 89A SureGrip Rollout as your pusher and Teal 92A SureGrip Rollout as your breaker. Have two different sets allows you to add to your wheel collection the 95A and 98A next so you travel with 16 wheels being ready for all floors of the venues you visit and SAVES YOU MONEY!!!
Reckless Envy Hybrid Roller Derby Wheel
Reckless Morph Roller Derby Wheel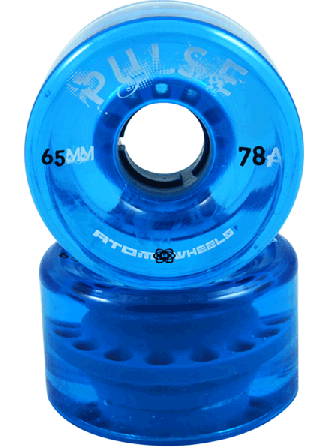 Toe Stop Upgrades
Your New Skater Package includes choice of standard pads from Atom, Smith Scabs or Triple Eight(you can click on items you like and the website will take you to that item for size guide):

OR

OR
Triple Eight KP 22 Knee, Triple Eight EP 55 Elbow, Triple Eight Wrist (various upgrades available)
We highly recommend you upgrade your kneepads to:
Other Upgrades:
TSG Derby Girl All Terrain Knee Pad
TSG Derby Girl All Terrain Elbow Pad
Your New Skater Package includes:
Triple Eight Brainsaver Dual Certified with EPS Liner Helmet
To ensure a perfect fit, measure the circumference of your head starting in the middle of your forehead and match it with the sizes below.
XS/S 18.9-21.3in (48-54cm)
S/M 21.7-22.8in (55cm-58cm)
L/XL 23.2-24in (59-61cm)
Package also includes SISU 1.6 Adult Mouth Guard FREE or upgrade to SISU 2.4 Adult Mouth Guard for $12

The thinner SISU™ 1.6 Mouth Guards fit much more snugly to your teeth, enabling you to easily breathe, talk and drink. In fact, they're so comfortable, you might even forget you're wearing one! Made in the USA. BPA and Phthalate free.
Four reasons to choose the SISU™ mouth guard.
Less transfer of impact forces to teeth

More absorption of impact forces by the material

Less deformation of the material

Higher tensile strength (tougher material)
The SISU™ 2.4 Mouth Guards is a novel ultra thin and tough mouth guard that is up to 50% stronger than conventional mouth guards and allows users to breathe, talk and drink. They fit much more snugly to your teeth, enabling you to easily breathe, talk and drink. In fact, they're so comfortable, you might even forget you're wearing one! Made in the USA. BPA and Phthalate free.
New addition available for mouthguard is the Shock Doctor MicroFit Mouthguard for $2 extra
Shock Doctor MicroFit Mouthguard are Designed to provide the lowest profile protection in a thin and tight fit design.
The slim fit provides ultimate easy breathing and speaking with I-Mold technology for smooth contour.
The Shock Doctor MicroFit Mouthguard gives a high level of comfort after forming the mouthguard to each athlete's unique preference for fit.
The new HMW composite blend adds increased durability while maintaining fit and performance all season long.
Ultra Custom, Lowest Profile

Exclusive I-Mold Technology

Easy to Speak, Breathe, and Drink

Low-Temp Fast Fit

$10,000 Dental Warranty
Available in White, Black, Red, Blue, Shock Green, Shock Pink and Shock Orange

If your budget allows you save $5 getting Skater Bag in your package.
Starter skates that will last approx one year in derby. For those on a budget these are good skates to start out on and upgrade later and use these then for outdoor skating. Info from Bad Girlfriend Skates:
The Rock GT50 is a good quality entry-level vinyl skate for people wanting to get into roller derby. This skate will last approximately one year, maybe longer, depending on the skater. Care needs to be taken when lacing not to over extend and pull to hard. Due to the satisfaction by skaters who have purchased this skate we are not only continuing to carry the skate but to now offer it with an aluminum truck for skaters over 200 lbs.
Product Reviews
Write Review
great place

Posted by Unknown on 14th Feb 2017

The lady who owns the shop is amazing and gets you what you need! She didn't try to sell me the most expensive stuff. ...only what I needed. She offered upgrades and explained the benefits and let me decide. My equipment is great. Thanks

Awesome package

Posted by Sara on 9th Nov 2016

These skates are super cushy and great for beginners like me who don't really know what they're doing. I upgraded my pads to 187s. Getting fitted was an awesome experience and I would highly recommend visiting the shop if you're not sure about how things will fit.

great products!!!!

Posted by Kelly on 5th May 2016

The package that I bought is great!!! The helmet is very comfortable and skates are wicked!!! So comfy and haven't had any issues with rubbing or feet being sore at all. Will definitely be back to the shop to purchase more stuff as I continue on my stellar roller derby journey!!! Thanks ladies!!!
Find Similar Products by Category
Customers also viewed