Riedell Dart Roller Derby New Skater Package
Riedell Dart Roller Derby New Skater Package
Riedell Dart Roller Derby New Skater Package
Product Description
Riedell Dart Roller Skate New Skater Package (FREE SHIPPING)

Riedell Dart Bad Girlfriend Roller Skates New Skater packages include your skates, Choice of Atom, Smith Scab or Triple Eight knee pads, elbow pads, wrist guards, Triple Eight Brainsaver Dual Certified Helmet and SISU mouthguard (we will not sell you junk boil and bite mouthguards! We won't even give them away free because they are garbage!) If you already have a dental mouthguard we even offer $20 deduction so you are not forced to buy one.
Bad Girlfriend Skates also offers you lots of price saving upgrades! Upgrading now saves you money now. We promise amazing prices and MORE options than any other skate shops. We are your ONE STOP skate shop!!
Please note we carry DART in sizes from 1 to 6 in all colors that are available ALWAYS. Exception will be if that color is being discontinued or sold that week in which case we immediately restock. If we need to order typically takes 4 to 6 business days to get to the shop and then time to ship to you. We carry black and pink always in size 1 to 8 and purple, and light blue 1 - 6. The Ombre is size 4 to 10 in mixture of colors. Email us at bgfskates@gmail.com or text 780-918-9676 for stock/color question. Unlike some shops WE HAVE STOCK! Lots of it....

Plate: PowerDyne Thrust Nylon
Wheels: Dart 62mm / 93A
Bearings: ABEC-5
Toe Stop: Midi Gripper
Boot Colour: Black, Purple, Light Blue, Pink, Orange(size 1 - 4 only), Green(size 1 and 2 only left)

Riedell Dart Ombré Roller Skate
Ombre Green/Black, Ombre Pink/Blue, Ombre Black/Red, Ombre Purple/Pink (Ombre comes with Die-Cast Aluminium Plate - $6 extra)*Sizes 12–14 comes with Thrust nylon plate.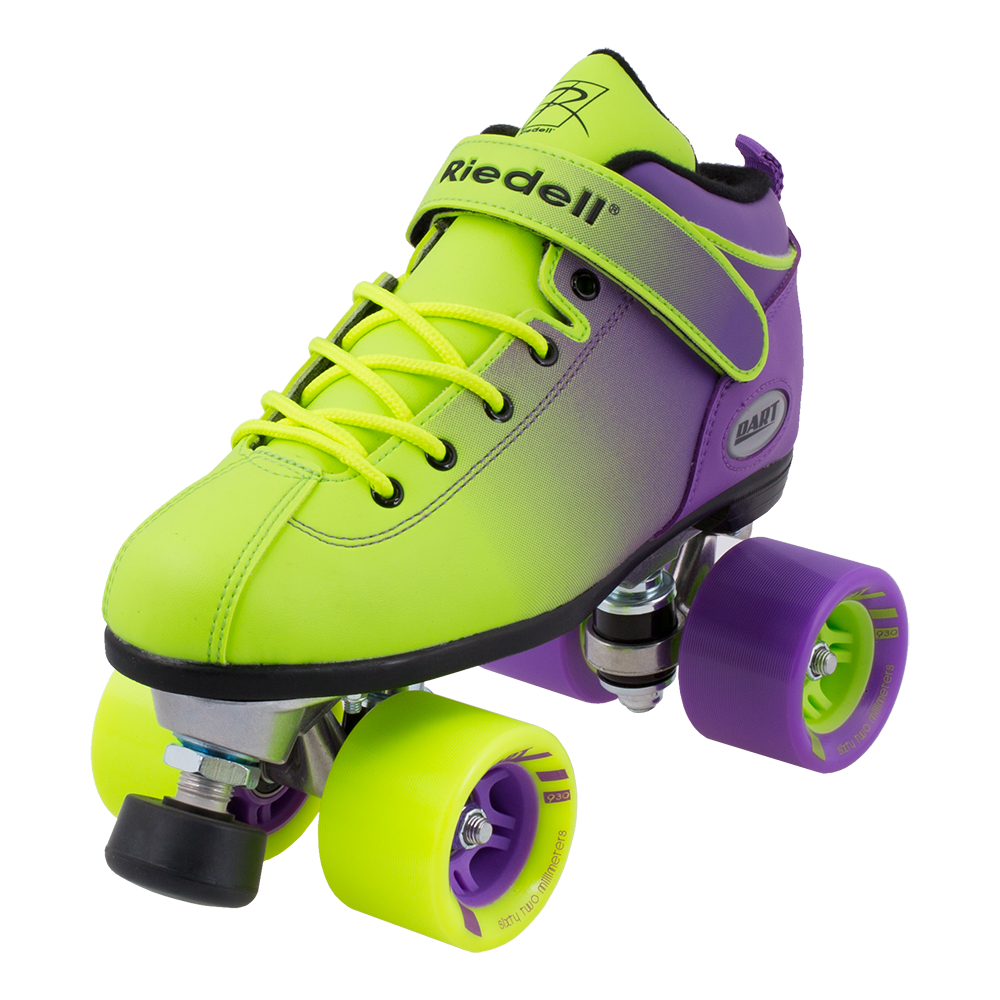 SIZING <------- this is VERY important
Speed Skates Are In Men's Sizes.
(Ladies Go Down One Size)
Ladies Shoe Size 8 = Man Skate Size 7
Please use the below link to size your foot for these skates if you have been unable to try on the skate.
https://www.roller.riedellskates.com/sizing-help
These skates are not recommended for skaters over 200lbs or skaters with wide feet. Ombre is the exception as it comes with Die-Cast Aluminum Plate.

These skates are recommended for JR skaters or for adult skaters on a budget that will look to upgrade once committed to derby.
Starter skates that will last approx one year in derby. For those on a budget these are good skates to start out on and upgrade later and use these then for outdoor skating.
Package includes choices of:
Wheel Upgrades
Upgrade your wheels at time of purchase and save time and money. Please talk to the league and confirm what wheels you will need for the skating surface you will be on. Each surface requires different wheels. Do you need soft wheels that have low hardness 84 - 88A or hard wheels at 90 - 101A? Don't get wheels that won't work for surface you will be on.

(Remember confirm with league what wheels you need for surface you are skating on)

The Radar Villain are the new High Performance "Hybrid" Derby Wheel from Radar manufactured entirely in the USA. They feature Radar Quantum Urethane Radar's Hybrid formula urethane and the new Shark hub. This wheel is great for skaters needing grip due to slippery surfaces, unusual conditions, or just because they prefer a grippy wheel. The other great thing about this wheel is it can be used outdoors.
Radar Villain Size: 38mm wide x 59mm tall
Colors: White urethane with bright purple hub
Hardness: 84A
OR
The Sonar Bracer wheels featuring an 84A urethane formula created to provide extra grip.
OR

Sonar Striker wheels feature 88A urethane formula created to give skaters good grip at an affordable price.
If you are new to derby you will enjoy the versatility of the Striker and the great thing is they work well on concrete, wood and sport tile surfaces.
OR
Reckless Envy Wheel gives you great grip and roll for all kinds of surfaces, from unpolished concrete to the slickest wood floors and dirty sport tiles. Use Reckless Envy as pushers or mix with the Reckless Evader or Ikon for extra traction. Reckless Envy are also a great alternative to standard outdoor wheels, providing excellent roll and grip on asphalt, cement, outdoor skate parks, and tennis courts
59mm tall x 38mm wide

62 mm tall x 38 mm wide
OR
Radar Presto roller derby wheel features the Tiger 2 piece hub and Neothane urethane setting a new standard for performance offering a previously unattainable combination of lightness, speed, grip and controlled stops.
Size: 38mm x 59mm and 62mm x 38mm
Hardness: 88A - Hub: Highlighter Turquoise and Black Tiger

Hardness: 91A -

Hub: Yellow and Black Tiger

Hardness: 93A -

Hub: Red-Orange and Black Tiger

Hardness: 95A -

Hub: Highlighter Blue and Black Tiger

Hardness: 97A -

Hub: Highlighter Purple and Black Tiger
Toe Stop Upgrades
Your New Skater Package includes choice of standard pads from Atom, Smith Scabs or Triple Eight(you can click on items you like and the website will take you to that item for size guide):

OR
OR
Triple Eight KP 22 Knee, Triple Eight EP 55 Elbow, Triple Eight Wrist (various upgrades available)
We highly recommend you upgrade your kneepads to:
Other Upgrades:
Your New Skater Package includes:
Triple Eight Brainsaver Dual Certified with EPS Liner Helmet
To ensure a perfect fit, measure the circumference of your head starting in the middle of your forehead and match it with the sizes below.
XS/S 18.9-21.3in (48-54cm)
S/M 21.7-22.8in (55cm-58cm)
L/XL 23.2-24in (59-61cm)
Package also includes SISU 1.6 Adult Mouth Guard FREE or upgrade to SISU 2.4 Adult Mouth Guard for $12

the thinner SISU™ 1.6 Mouth Guards fit much more snugly to your teeth, enabling you to easily breathe, talk and drink. In fact, they're so comfortable, you might even forget you're wearing one! Made in the USA. BPA and Phthalate free.
Four reasons to choose the SISU™ mouth guard.
Less transfer of impact forces to teeth

More absorption of impact forces by the material

Less deformation of the material

Higher tensile strength (tougher material)
The SISU™ 2.4 Mouth Guards is a novel ultra thin and tough mouth guard that is up to 50% stronger than conventional mouth guards and allows users to breathe, talk and drink. They fit much more snugly to your teeth, enabling you to easily breathe, talk and drink. In fact, they're so comfortable, you might even forget you're wearing one! Made in the USA. BPA and Phthalate free.
New addition available for mouthguard is the Shock Doctor MicroFit Mouthguard for $2 extra
Shock Doctor MicroFit Mouthguard are Designed to provide the lowest profile protection in a thin and tight fit design.
The slim fit provides ultimate easy breathing and speaking with I-Mold technology for smooth contour.
The Shock Doctor MicroFit Mouthguard gives a high level of comfort after forming the mouthguard to each athlete's unique preference for fit.
The new HMW composite blend adds increased durability while maintaining fit and performance all season long.
Ultra Custom, Lowest Profile

Exclusive I-Mold Technology

Easy to Speak, Breathe, and Drink

Low-Temp Fast Fit

$10,000 Dental Warranty
Available in White, Black, Red, Blue, Shock Green, Shock Pink and Shock Orange

If your budget allows you save $5 getting Skater Bag in your package.
Find Similar Products by Category
Customers also viewed