Reckless Morph Roller Derby Wheel, MOTO DELUXE Bearings and GRN MNSTR Astro Nuts
Reckless Morph Roller Derby Wheel, MOTO DELUXE Bearings and GRN MNSTR Astro Nuts
Product Description
Reckless Morph wheels feature a tested and proved dual "stacked" urethane that delivers maximum speed, precise grip, and reliable stability that will meet the high demands of derby players.
This innovative process allows the fusion of a performance speed compound for fast roll, with a softer compound at the edge of the wheel allowing for better edge control.
The "stacked" technology gives you the best of both worlds without the hassle of constantly changing wheels.
The structural integrity of the link core improves skating speed and response — an essential element in today's derby and roller sports.
By merging all the elements, the new morph is the most innovative and dynamically technical wheel in derby today.
Better traction on straight-aways, reduces slippage on corners, while still allowing for controlled slide in plow stops.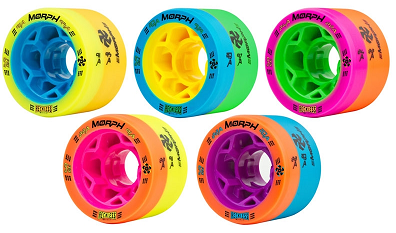 Moto Deluxe Bearings are built to the highest specifications and constructed from the finest quality parts available. Moto Deluxe Bearings are 'skate rated', which ensures durability under the heavy loads of roller skating. Moto Deluxe Bearings are factory 'pre-spun' and are made with high precision races, hardened steel balls, delrin retainers, and a light lubrication for a smooth and fast roll.
Set of 16 bearings
Astro-Nuts are constructed of Compression Molded Nylon, which makes them half the weight of standard axle nuts.
They ensure longer thread life and a more secure fit.
Astro-Nuts come in seven different astronomical colors to give you a personalized custom look for all of your skates!
Available in 8mm only.
Find Similar Products by Tag
Find Similar Products by Category
Customers also viewed