Jackson Vantage Roller Derby New Skater Package
Jackson Vantage Roller Derby New Skater Package
Jackson Vantage Roller Derby New Skater Package
Product Description
Jackson Vantage New Skater Package (FREE SHIPPING)
Bad Girlfriend Roller Skates New Skater packages include your skates, Choice of Atom, Smith Scab or Triple Eight knee pads, elbow pads, wrist guards, Triple Eight Brainsaver Dual Certified Helmet and SISU mouthguard (we will not sell you junk boil and bite mouthguards! We won't even give them away free because they are garbage!) If you already have a dental mouthguard we even offer $20 deduction so you are not forced to buy one.
Bad Girlfriend Skates also offers you lots of price saving upgrades! Upgrading now saves you money now. We promise amazing prices and MORE options than any other skate shops. We are your ONE STOP skate shop!!
Email us at bgfskates@gmail.com or text 780-918-9676 for stock/colour question. Unlike some shops WE HAVE STOCK! Lots of it.... This package we are clearing out to make room for a new skate expected mid August.

THE ONLY THING WE HIGHLY RECOMMEND IN OUR NEW SKATER PACKAGES IS - UPGRADE YOUR KNEEPADS - PAY THE EXTRA $25 TO $45 AND YOUR KNEES WILL LOVE YOU!
The Jackson Vantage boot features a genuine leather upper utilizing Jackson's Pro Series last for a performance fit. The use of leather combined with Jackson's Heat Moldable System ensures the boot will shape to the skater's foot. A rubber stitch-through sole with leather heel provides maximum security and stability.
Boot: Jackson Vantage
Microfiber upper

Black rubber stitched outsole

Fabric lining

Padded tongue
Plate: Pilot Viper F-16 Zytel Nylon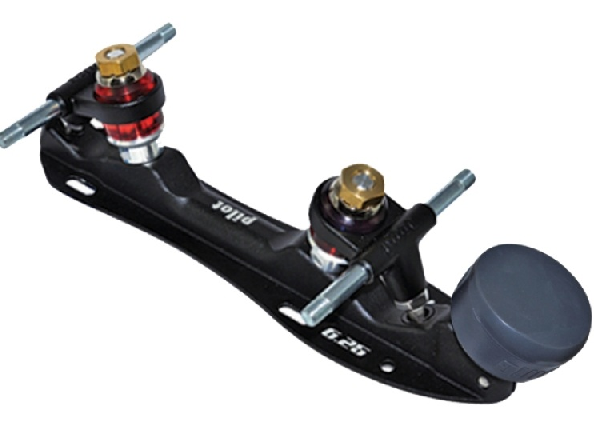 The Pilot F16 series roller skate plate allows skaters to upgrade their Pilot base plate without having to re-drill holes in their boots. It is also simple to upgrade from the base nylon plate, with non micro adjustment, to the Eagle plate, that offers an array of urethane cushion hardness, as well as a micro click adjustable truck setup.
Skaters can also upgrade either the Eagle or Falcon plate with trucks that allows for precise pivot adjustment. Atom has also utilized the 16-degree truck setup as this allows for optimal action for skaters as well as sits the skater lower to the ground for increased maneuverability!
Atom's Pilot Eagle/Viper frame is great for athletes looking to reduce weight without reducing power! The glass filled Zytel nylon allows for a stable ride that reduces flex, which is notorious on plastic plates.
Sizes: Women's 4-10 full and half sizes, 11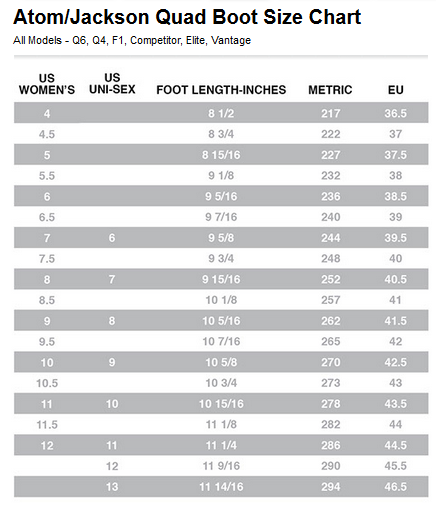 The Jackson Vibe skate package comes with your choice of Pulse Outdoor wheels, Poison Nylon wheels or Poison Savant wheels.

Bearings: Bionic ABEC-7 bearings are lubricated with speed oil and require no break-in period.
Delrin cage reinforced.
Toe Stop: Bionic XS Stopper Adjustable
Bionic XS Stoppers: Rubber compound, long lasting, non-marking, 30 mm stem len

Toe Stop Upgrades
Protective Gear included in your new skater package:
Your New Skater Package includes choice of standard pads from Atom, Smith Scabs or Triple Eight(you can click on items you like and the website will take you to that item for size guide)

OR

OR
We highly recommend you upgrade your kneepads to:
Other Upgrades:
To ensure a perfect fit, measure the circumference of your head starting in the middle of your forehead and match it with the sizes below.
XS/S 18.9-21.3in (48-54cm)
S/M 21.7-22.8in (55cm-58cm)
L/XL 23.2-24in (59-61cm)
Package also includes SISU 1.6 Adult Mouth Guard FREE or upgrade to SISU 2.4 Adult Mouth Guard for $12
he thinner SISU™ 1.6 Mouth Guards fit much more snugly to your teeth, enabling you to easily breathe, talk and drink. In fact, they're so comfortable, you might even forget you're wearing one! Made in the USA. BPA and Phthalate free.
Four reasons to choose the SISU™ mouth guard.
Less transfer of impact forces to teeth

More absorption of impact forces by the material

Less deformation of the material

Higher tensile strength (tougher material)

The SISU™ 2.4 Mouth Guards is a novel ultra thin and tough mouth guard that is up to 50% stronger than conventional mouth guards and allows users to breathe, talk and drink. They fit much more snugly to your teeth, enabling you to easily breathe, talk and drink. In fact, they're so comfortable, you might even forget you're wearing one! Made in the USA. BPA and Phthalate free.
New addition available for mouthguard is the Shock Doctor MicroFit Mouthguard for $2 extra
Shock Doctor MicroFit Mouthguard are Designed to provide the lowest profile protection in a thin and tight fit design.
The slim fit provides ultimate easy breathing and speaking with I-Mold technology for smooth contour.
The Shock Doctor MicroFit Mouthguard gives a high level of comfort after forming the mouthguard to each athlete's unique preference for fit.
The new HMW composite blend adds increased durability while maintaining fit and performance all season long.
Ultra Custom, Lowest Profile

Exclusive I-Mold Technology

Easy to Speak, Breathe, and Drink

Low-Temp Fast Fit

$10,000 Dental Warranty
Available in White, Black, Red, Blue, Shock Green, Shock Pink and Shock Orange

If your budget allows you save $5 getting Skater Bag in your package.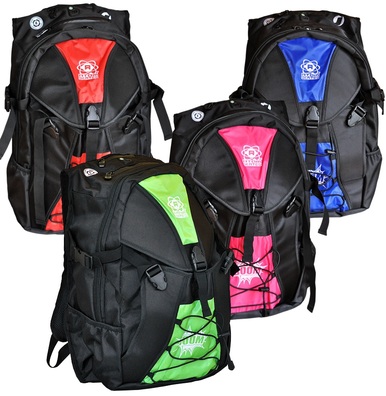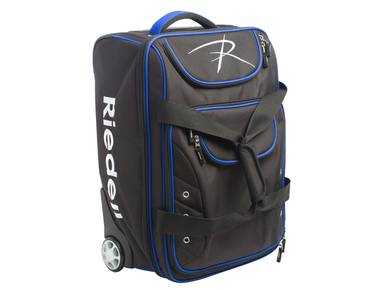 Find Similar Products by Category
Customers also viewed